Back to Events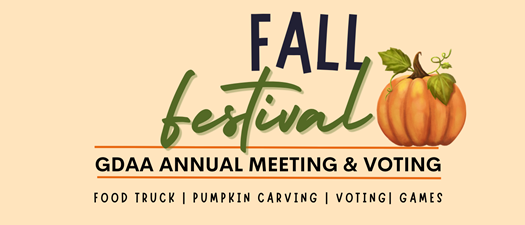 October Annual Meeting
Wednesday, October 25, 2023
Event Details
3:45 Event kick-off
4:00- 5:00 Voting
4:30 Annual Meeting
Registration Details
The Greater Dayton Apartment Association will hold its annual elections for the Board of Directors at the Annual Meeting.
As outlined in the GDAA Bylaws Voting is as follows:
Primary Candidates
There are two (2) candidates running for two (2) Primary Board seats.
Crystal Hawkey- HILLS Properties
Tammy Trace-Tanner- Fath Properties
---
Crystal Hawkey has over 22 years of Property Management experience with much of that time being in the Dayton and Cincinnati markets. Since starting her career with HILLS in 2019 she has had many notable accomplishments including receiving her CAM (Certified Apartment Manager) Designation and being the recipient of the 2022 GDAA Volunteer of the Year Award. Crystal has been extremely active with the GDAA since returning to the area and has served on the Board of Directors for the past 3 years. She currently is the co-chair of the Education Committee and serves on the Rent Foundation Committee. Crystal looks forward to continuing to support this organization which has meant so much to her development and advancement through her career.
Tammy Tanner has been in the multifamily industry for over 35 years. She began her property management career with a 13-year stint working for Barrett & Stokely first as a Property Manager, then Regional Manager. Tammy transitioned to Fath Properties in 2002 as a Property Manager floater, covering manager's leave. In 2007, she moved into a part-time position in Fath's accounting department, which allowed her to spend more time with her daughter. During this time, Tammy was also a volunteer at her daughter's school. In 2012, Tammy returned full-time as a Property Manager when Fath purchased 336-unit Washington Place in Miamisburg. Over the course of her career, Tammy was very active with GDAA serving both as its president and on many committees. Her favorite committee was Membership where she enjoyed event planning and welcoming new members.
Supplier Partner Candidates
There are three (3) candidates running for one (1) Supplier Partner Board Seat.
Jessica Delaney- Belfor Property Restoration
Amanda Gleim- Contractors, Inc.
Bryan Woods- CertaPro Painters
Jessica Delaney with Belfor Property Restoration, has worked in the multi-family industry for 4 years. She is an active member of the GDAA, GCNKAA, and Independent Insurance Association of Dayton. Jessica's territory with Belfor is the Dayton and Cincinnati area. She spends more time in Dayton with the new Belfor office in Huber Heights. Jessica has enjoyed getting to know members of GDAA through events and classes and sees how everyone benefits. She is a big GDAA fan and wants to give back to something Jessica believes in. She will support and promote the association. Jessica also sees the importance to help attract the younger generation to get involved.