Back to Events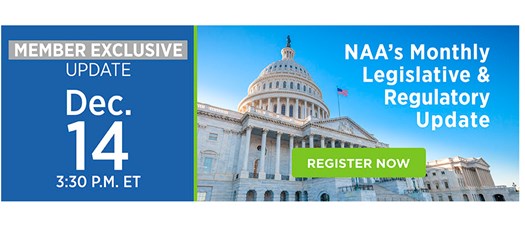 NAA's Monthly Legislative & Regulatory Update
Wednesday, December 14, 2022
Event Details
Join us for the final installment of our 2022 series as we hear from NAA staff experts as well as special guests from Fannie Mae on news about their programs for rental housing borrowers. NAA will discuss opportunities to advance the rental housing industry's 2022 federal priorities as well as preview NAA's state & local research on rent regulations and forthcoming antitrust resources for our members. We ensure that public policy enhances your ability to operate your business and provide housing to one-third of Americans and help you stay legally compliant.
Webinar: NAA's Monthly Legislative & Regulatory Update

Date & Time: Wed., Dec.14 at 3:30 p.m. ET

Price: Free for NAA members and affiliated apartment association staff*

*NAA reserves the right to reject registrants.